Going Digital Raises Patient Satisfaction, Retention & ROI
Technology has leaped immensely in the 2000s, and when it comes to tech, there's a true maxim: Keep up or be left in the dust! Research has shown that people prefer to do things online. A Harris Poll showed that 4 in 5 North Americans want the ability to use technology to manage their healthcare journey. This poll also showed that 70% of consumers are willing to switch providers if that practice offered more and better online services.
This is the 21st Century and the digital world dominates how people interact with one another. Moreover, how much or how little technology drives the healthcare experience is a determinant factor in patient loyalty, retention, growth, and, at the end of the day, how it affects the healthcare centre's ROI. And one way of accomplishing all this is with Nuance® Dragon® Medical One.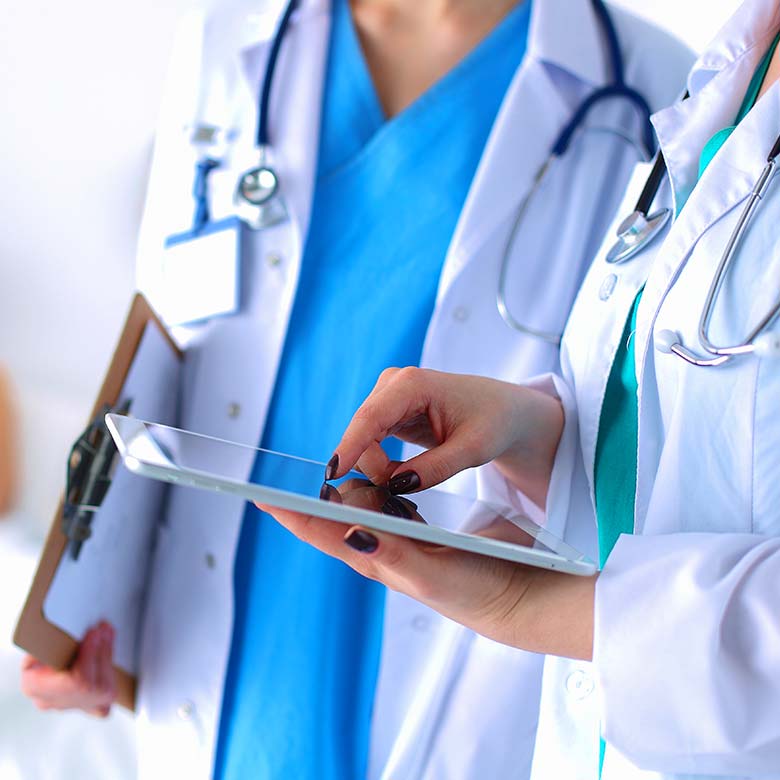 A Harris Poll showed that 4 in 5 North Americans want the ability to use technology to manage their healthcare journey.
Quick Facts About Dragon Medical One
It works with electronic medical records (EMRs), electronic dental records (EDRs), electronic veterinarian health records (EVHRs), picture archiving and communication systems (PACS), and more.
Its speech-to-text accuracy is 99.9%.
It resides in the Cloud, thus eliminating the need for healthcare centres to rely on servers.
Its AI-driven algorithms quickly learn the users' speech patterns, accents, and idiomatic idiosyncrasies. In fact, the more it is used, the more it learns and recognizes how the users speak.
With automation and dictation, the clinician can dedicate more time to the patient and enhance the patient's experience. This increases patient loyalty and retention.
It can be used hands-free.
It can be paired with iOS and Android on the clinician's preferred mobile device.
It helps decrease clinician burnout.
Learn more about Dragon Medical One »
---

How Telehealth and Patient Portals Improve the Patient Journey
It's no secret the North American consumer has gotten used to the convenience of online transactions—from buying groceries to booking reservations—while dealing with all verticals, from banking to patient data.
Research shows consumers want their healthcare journey to simulate their customer journey. As a matter of fact, 61% of consumers reported they want their healthcare dealings to be akin to the way they shop, order a ride-share, or post on social media. All health systems—hospitals, medical centres, clinics, private practices, etc.—want to help their patients and keep them healthy and well. But, at the end of the day, in order to achieve this, there's one factor all administrators must keep an eye on, the ROI. The more the workflow is streamlined, and the more time and money are saved, the higher the return on the investment becomes. Money saved on transcriptionists, printers (and paper and ink), paying a third-party IT consultant, up keeping and maintaining expensive servers, training personnel, and so many other expenses will pay for investing in speech-recognition technology many times over. However, there is a drawback to all the technology available: fatigue. Clinicians and their support staff spend an inordinate amount of time typing and catching up with all the "paperwork" that needs to be completed. This is one of the leading causes of
clinician burnout
. How can this be avoided? Easy!
Why type when you can speak?
Here's where you as a Value-Added Reseller can help your healthcare clients. Telehealth, patient portals, chats, web scheduling, patient intake data, updating medical records, and more have become much easier with speech-to-text technology.
Benefits of Going Digital
Digital technology leads to a more efficient medical workflow
It can be programmed to automate the tasks that set clinicians behind, such as repetitive information
Competitive advantage and the expansion of the patient base
Increased patient flexibility and increased patient adherence
Easier patient onboarding and follow-up, leading to improved patient outcomes
Decreased physician/support staff burnout
Patients prefer practices that offer a digital front door
Patients can schedule an appointment at their own time on their own terms
Online scheduling allows medical staff to deliver a better patient experience
It's easier to get patient intake data
A convenient healthcare experience fueled by technology will improve patient satisfaction and drive patient retention
Savings offset Nuance Dragon Medical One cost and they increase ROI