As the paradigm revolving around digital marketing and e-commerce continues to shift and evolve (and competition gets fiercer), what's a value-added reseller to do? How can they stand head and shoulders above the rest and rise above all the noise?
This article will cover ways a value-added reseller can benefit significantly by partnering with a Value-Added Distributor , such as eDist Canada. After all, why wouldn't an SMB, a startup, or a one-person outfit consider a partnership that brings in a marketing team, solid leads, IT help… in short, a proven infrastructure that would drive their product or service to new heights.
Add to the mix that there is a lot of uncertainty regarding the Canadian economy in 2023. In fact, the Business Development Bank of Canada expects the economy to slow down this year . Partnering with an outfit that will stand with you through thick and thin seems like a solid idea, right?
Read on to see how partnering with eDist Canada will allow you to cut through the noise and be king of the hill.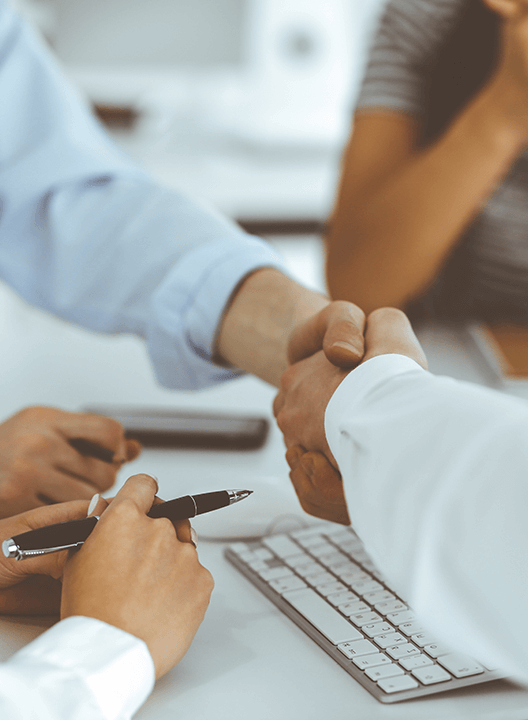 The Speech Recognition Industry Today
Ask the average person what speech recognition technology is and most likely you will get an answer along the lines of Siri or Alexa. However, you know quite well there's more to it than that, and the one factor that concerns you the most is this tech's ability to convert speech to text – whether it'd be on desktops or mobile devices.
Now, what if your client asks you how speech-to-text technology works. Then, you'd expertly say, "the speech recognition software uses algorithms called Natural Language Processing (NLP), which along with neural networks, have been taught (i.e., programmed) to analyze, understand, derive meaning from, and respond to human language." Then you'd go into your sales pitch and add how this technology will save your client time and money while offering a faster workflow and helping to streamline operations.
But, what's in store for Automatic Speech Recognition (ASR)? First off, according to Forbes, the current market value of this industry (as of 2022) is $9.4 billion. It is expected to grow at a Compound Annual Growth Rate of 24.4% for the next five years resulting in a value of $28.1 billion. Secondly, the industry will grow in the languages it uses. ASR is done mostly in English, with some programs having the ability to understand Spanish, French, Portuguese, and German. As NLP technology advances, so will the languages that can be recognized. Lastly, industry experts say by 2030, voice commands will be the primary way people will communicate with computers.
This last part is great news for you and your medical, legal, and professional clients, as their Nuance® Dragon® products will only get better.
So, What Is a Value-Added Reseller to Do?
First and foremost, a value-added reseller who wants to stand out should offer what others do not. It all comes down to the value part of the name, doesn't it? Here are 5 ways to do that.
---
Adding Value to Your Value-Added Model:
Consider becoming a one-stop shop for your clients – Make sure your clients know you offer the multiple services they will need; from speech-recognition software and hardware to on-demand training, and from technical support to analytics… and everything in between.
Be proactive with your lines of communication – Don't just wait for the clients to reach out to you, you should be in contact with your clients on a regular basis. Ask them how the product (or service) is working out for them. Do they have any issues? Are they ready for an upgrade? This shows you're willing to go the extra mile for them. This is the very definition of adding value. The more value you add, the higher your customer retention.
Focus on digital marketing – It is a digital world and clients no longer have the bandwidth (nor the desire) to take in-person meetings. Embrace virtual calls and meetings. Ditch the direct-mail approach and get into video storytelling (stand-alone videos, webinars, social media, etc.).
Show them the money – How do most enterprises interpret value? By the Return on Investment (ROI). Don't just tell them you are adding value to the product… show them! Be specific on how your product (and/or services) will save them money, or how it will save them time, which in turn will save them money. Talk about the peripheral ways they can save (e.g., no more third-party transcriptionists, dramatic reduction in overtime, less paper and ink for the printer, etc.).
Connect with the right Value-Added Distributor – In other words, partner with eDist Canada. Read on to see how we can be a difference in your business model and help you become the complete solution for your clients.
Partnering with the Right Value-Added Distributor
eDist Canada is the leading wholesale distributor of speech-to-text technology in North America and the exclusive distributor of Nuance® Dragon® products. These products are designed to make your client's life easier. Just by using the power of their voices, they can achieve faster workflows and streamlined operations.
Here are 5 benefits of partnering with a value-added distributor:
Brand building
License managing
On-demand training
Proven recurring revenue model
Lead generation for customer base growth.
If you want to be a part of the company that revolutionized the reseller program and is wholly invested in seeing you succeed, click the button below.